So the big basketball news over the weekend was that Nike, Adidas and Under Armour all basically laughed in the face of LaVar Ball, father of former UCLA basketball standout and projected top 3 pick Lonzo Ball, with the ol' Dikembe Mutombo "Get That Crap Outta Here" finger wave.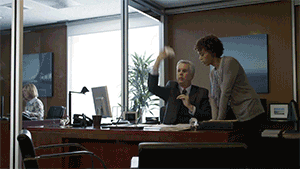 It's reported LaVar, who represented Lonzo in the meetings, told the shoe companies that they are not interested in an endorsement deal and rather insisted the companies license his "Big Baller Brand" instead. Now for those of you who haven't heard of the Big Baller Brand before, here's a little taste:
That hideous looking shirt will only run you a measly $50. Yes $50, that's correct. That's what LaVar Ball was pitching to executives at Nike, Under Armour and Adidas. You can't help but laugh. At first, I found LaVar Ball to be kind of amusing. I saw him as kind of that fun loving Dad who said off-the-wall things and told crazy jokes so his son's friends would think he's cool. But now, it's crystal clear that he's just a major space cadet.
And now he's starting to cost his son. Don't get me wrong, Lonzo Ball has it pretty good right now. He's in line to be a top 3 pick and regardless of this whole endorsement debacle, will make millions of dollars once he hears his name called on June 22nd. But I can't help but feel bad for him –  his crazy Dad just cost him $7M+ annually. And just for reference, that's a lot more than the $4-$5 million he will earn per year on his rookie deal.
It's time for Lonzo to take over the steering wheel, give his dad a pacifier and toss him in the backseat. The Big Baller Brand will never be worth $1 billion dollars like LaVar claims. I'm with Nike, Under Armour and Adidas on this one. At the end of the day, Lonzo is just another player – there's no guarantee he will become a superstar and there will be ten more rookies next year the companies can go after without having to deal with a lunatic dad.